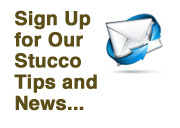 For more information and quote on your next project please call 719-578-8115.
Traditional Stucco
Traditional stucco is made from a mixture of Portland cement, sand, and water. This type of stucco has been used for many years, and is still used today.
Some features of traditional stucco include:
• Grows stronger with age
• Fire Resistant
• Durable in all elements
• Low maintenance-no painting required
• Fiberglass Reinforced
• Fiber reinforcement increases flexural and tensile strengths, providing crack resistance
• Impact resistant
• Impervious to termites, rot, and fungus
• Can be installed over EPS for improved energy efficiency
• Spray or trowel application
Suitable Substrates
• Sound concrete and masonry
• EPS or XEPS sheathing
• Weather-resistive barrier over gypsum sheathing, exterior grade plywood, OSB (waferboard), or asphalt-impregnated sheathing
• Stabilized adobe
• Fome-Cor, a product of International Paper (ICBO ES report #3335)
• Polysteel Forms
• Celotex Tur-R (ICBO ES report #5009)
• Metal Building
We get all our products and systems from reliable and well known companies in the industry that give technical and product support when needed. Krak Master mesh is imbedded for a crack-resistance stucco system. Acrylic elastomeric finish may be applied over cement based stucco systems for crack-resistance and waterproofing, this elastic system is our most recommended system. This adds longetivity and color consistency, which is available in many different colors and textures.